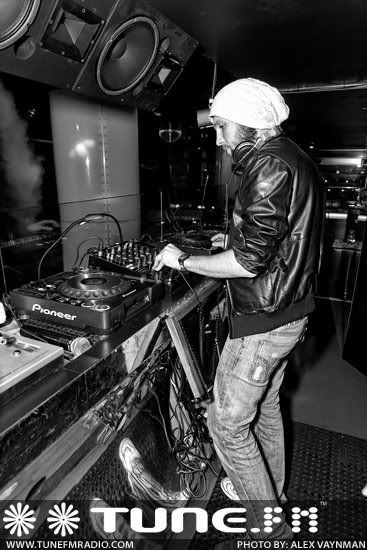 DJ TimaFei / Tima Fei. The Real name - Tima.
"Mr. Charm " - friends call him and this name he got in school. Man's charisma, gallantry, faultless appearance – all it gives to Tima love of his fans. The birthplace: Ukraine, Ternopol, since 1998 lives in northern suburb of Chicago. After graduated school in 2001 he started college and experiencing in his career fields as the stylist/the fashion consultant. He worked for "Puma", "United Colors of Benetton" and still at "Bebe". To musical career Tima has come through fashion runways, he was engaged in to fashion and modeling, he organized fashion shows and had started to create music for fashion runways.
In 2003, four friends which one of them was Tima decided to make their dream reality; they brought their music and ideas together. NORdjs was born. Tima Fei's first gig was night club "MISSION" aka "MEDUSA SATURDAYS" in Elgin and first gig with whole NOR crew was club "GLOW". Guys successfully won public's satisfaction and today their names as well as their music sounds in the most prestigious night clubs of the Big Chicago.
Tima "I am happy, when I see my music and people united as one on the dancing floor!" "At the heart of the concept of my music is the idea of intelligence lies, desire to show harmony to force to think, cause images by means of electronic sounds. I am assured that it that the thinking and formed youth today wishes to listen."
Tima participated to "Miami Winter Music Conference" in 2007 - 2009. Holding resedancy on Fridays at one of the best clubs in Chicago "Sound-Bar". Played with such stars as: ATB, Jonathan Peters, Dirty South, Tocadisco, Bad Boy Bill, Andy Moore, Mark Knight, Mattew Dekay, Paul Harris, Dave Seaman, Creamer and K, Paul Oakenfold, BT, Dubfire (Deep Dish), Satoshi Tomiie, Judge Jules, Funkerman, Steve Lawler, and Sandra Collins.
In March, 2009 Tima for the first time for 10 years arrived home, to Ukraine.
Tima "I wish to show to the fellow countrymen volcanic energy, a mad rhythm and magnetism of modern music of multinational Chicago". His privet Ukrainian Tour was a success.
About DJ Tima Fei you can see the information on Internet pages:

http://www.nordjs.com
http://www.dubsex.com
http://www.facebook.com/timafei
http://www.myspace.com/timafei